ZeroEdge Plans to Launch a No Profit Crypto Casino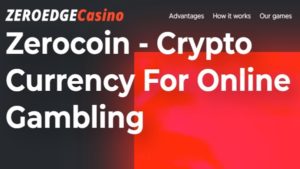 ZeroEdge sportsbook and online casino is trying something really new and fresh in online casino and bookmakers world. They are trying to become the online gaming industry's default crypto-currency. Does it sound impossible? Well maybe, but the ZeroEdge have a plan…
They plan to commence a pre-initial coin offering (ICO) and that token will be used exclusively on the ZeroEdge platform, which plans to offer 0% house edge casino games and fee-less sports exchange betting.
ZeroEdge's business model is based on the presumption (theory if you like), that as more people buy and use ZeroCoin (their crypto-currency), the token value will increase, and that will enrich not only the ZeroEdge backers but also the players. Also, ZegoEdge house edge isn't always "zero", as it slots carry a house edge of 0.01%, while other games require from players to play really smart in order to achieve a zero house edge.
ZeroEdge suggests to their potential players and buyers that ZeroCoin is ideal for the people that actually don't want to use ZeroCoin for gambling, rather for investing. If you buy early and forget about it, you may wake up one day and be a millionaire. By its own admission, ZeroEdge's business model depends on perpetual growth – a rather optimistic market cap table included in its white paper tops out at 3m monthly users – which will be hard to achieve without a serious marketing campaign.
Well, that all sounds nice, but… it surely is just a good marketing trick from ZeroEdge. Launching a new gambling site is hard enough without adding additional crypto-currency from unknown sources, and that tokens can't be used for any other purpose. Also, there are Etherneum's security concerns, anti-dilution issues etc. Plus on that, the online gambling industry already has a default crypto-currency (Bitcoin). Bitcoin can be used for other purposes and have an advantage of fast transactions, without any need for further conversion. At the end, investors had their share of ups and downs with crypto-currencies, and an idea of new ZeroCoin will live only on paper and ultimately will have a value of its name, ZERO.
Tagged with: ICOs • Industry News • ZeroCoin • ZeroEdge