Cloudbet is an online betting site filled with wagering opportunities across a sportsbook and casino. The website is licensed to deliver remote betting on games of chance by E-Gambling Montenegro, and began operating in 2013. It is run by Tiger Tree Holdings, based in Podgorica, Montenegro. It is accessible to players in Europe and the Rest of the World.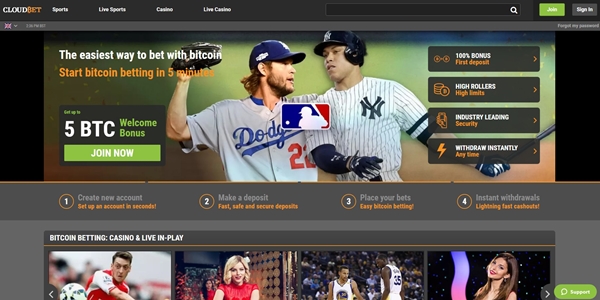 The sports betting facilities are obviously our core concern, and we're happy to report that they are of an exceptional quality.
The sportsbook is vast. You can choose to place bets on events in such sports markets as Aussie rules, bandy, baseball, basketball, cycling, MMA, rugby, snooker, table tennis, volleyball, and even water polo. The different markets provide you with thousands of different events across the globe, and you can browse the fixtures for each without hassle thanks to Cloudbet's user-friendly design.
The website has a low-key but streamlined presentation style. Dark greys, whites, and oranges fill the screen, contributing to a clean interface you can use with ease on desktop and mobile devices.
Cloudbet has a live sports section too. This allows you to make bets on events which are already in-play: even if a football match or darts game is nearing its final minutes, you can back the outcome you most want to see without fear of missing out. It's a common feature at online sports betting sites, and CloudBet's sportsbook presents it in an incredibly accessible format.
Signup and Membership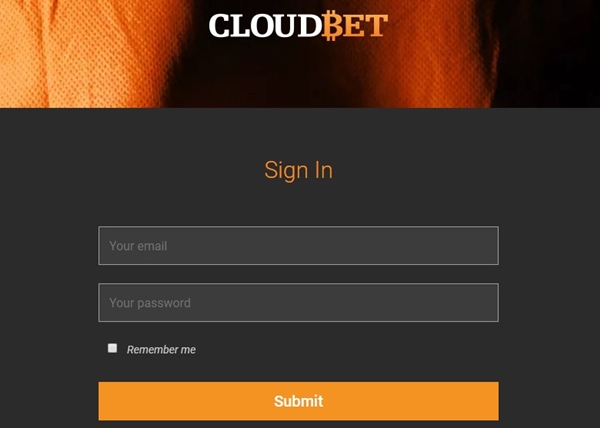 We all know a key attraction for using Bitcoin is the anonymity. Bitcoin users take their privacy very seriously, and don't want to supply online betting sites with personal information, seeing it as intrusive and unnecessary.
CloudBet's team is clearly understanding of this, and committed to providing a service suited to Bitcoin users' demands. As a result, all you need to submit when you sign up is your email address – that's it.
No name, no address, no phone number. Just enter your email address and create a password, and CloudBet will handle the rest.
You will receive a confirmation email after registering with CloudBet, but if you don't, there is a simple option to resend it on the registration page.
Deposits and Withdrawals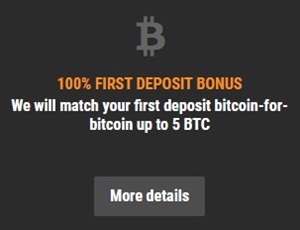 To make a deposit at CloudBet, sign in and click on the 'deposit' button. The site generates a fresh Bitcoin address for each transaction automatically, and this should be pasted into your Bitcoin wallet. Just transfer the amount of Bitcoins you want to put in your account.
Alternatively, if you have a mobile wallet set-up, you can scan the QR code alongside the Bitcoin address generated by CloudBet.
The minimum deposit you can make is 0.001 BTC, and there is no maximum deposit amount.
Making a withdrawal is a similar process: just go to the withdraw option in your account and transfer the money across. The minimum withdrawal amount is 0,001 BTC, and again, there is no maximum.
CloudBet processes all deposits and withdrawals instantly, and provides a contact email address if the deposit doesn't reach your account in a number of seconds.
CloudBet stores all deposited Bitcoins in an offline cold wallet, to protect your money from any potential security breaches. Their hot wallet has just enough Bitcoins to accommodate the transactions needed for one day at a time, and is refreshed every 24 hours.
Available Cryptocurrencies
CloudBetis based entirely around Bitcoin. You can only make deposits and withdrawals using this cryptocurrency – no others are accommodated.
The site provides you with plenty of information on Bitcoin's structure, its benefits, and more. This is ideal if you have never used it and want to know what you should choose it over standard payment methods.
Bonus Offers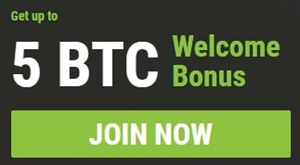 CloudBet gives every new player a 100% match on your first deposit, with up to 5 BTC available. Your bonus Bitcoins will be added to your account as soon as you make your first deposit and make a wager.
Loyalty points are awarded when you make bets on the sportsbook or play games in the casino, and CloudBet releases 0,01 BTC for each portion of 800 loyalty points earned through wagering. The loyalty points needed to claim the welcome bonus can be earned across your first 365 days of membership – there's no need to rush.
The loyalty points vary in size according to the amount you wager and the price. You'll earn more loyalty points for bigger bets, which will help you earn your welcome bonus faster.
This is the only bonus offer available at CloudBet, at the time of writing.
Verdict
CloudBet is certainly a Bitcoin betting site to try. The simple design, user-friendly interface, private registration, and range of sports markets is impressive, appealing to newcomers and seasoned betting-fans alike.
---