1xBit launched in 2017, and has grown to be a leading name on the cryptocurrency-betting market since. 1xBit is the crypto version of the famous sports betting website 1xbet founded back in 2007. 1xBit is licensed in Curacao and powered by Cascade platform which enables it to provide one of the widest range of betting products online. They provide members with a huge range of betting options, encompassing many diverse categories. One of the most impressive aspects is their extensive sportsbook, which covers almost everything a sports-fan could want to see.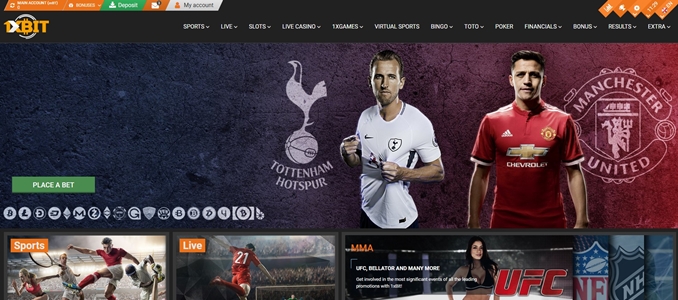 Choose from American football, baseball, cycling, chess, cricket, darts, field hockey, Formula 1 Gaelic football, golf, horse racing, marital arts, lotteries, and many more. The sheer variety of markets available for you to wager upon is vast, granting you access to thousands of different events across the globe. The NBA, NFL, NHL, and countless international leagues and tournaments all feature.
In-play betting is included, giving you the flexibility to bet on games or races already underway.
Beyond their sportsbook, 1xBit boasts a huge array of slots from some of the industry's foremost developers, such as Xplosive Slots, NextGen Gaming, Thunderkick, Gii365, BigTimeGaming, and more. These slots are slick and exciting, with the highest quality of performance.
The 1xBit live casino features numerous live-dealer games like roulette, blackjack, baccarat, and Caribbean stud.
Virtual sports, lotteries, and even financial markets can all be wagered on. 1xBit's selection of betting options is simply remarkable, offering practically anything and everything enthusiasts could want.
1xbit Signup and Membership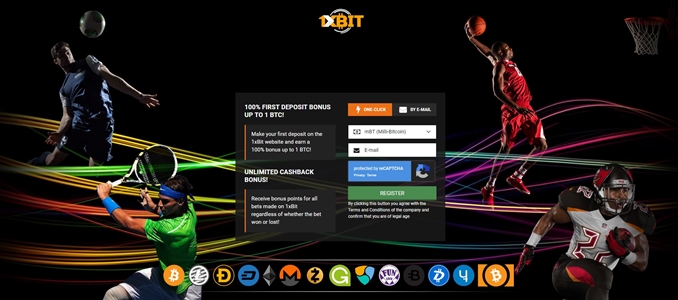 Signing up with 1xBit is quick and easy. All you need to do is click on the 'Registration' button in the top left of the screen. This takes you to a welcome page, which prompts you to choose one of two sign-up processes: 'one-click' or 'by email'.
For one-click registration, just choose your preferred currency from a drop-down menu and to provide your email address. This is quick and simple, and helps you to get started with a minimum of fuss.
For registration by email, you face a slightly longer process. Simply choose your currency, create a password, and submit your email address.
Once you've clicked 'register', you will be given an account number and a password for future logins.
1xbit Deposits and Withdrawals

1xBit's selection of payment methods is incredibly impressive, as discussed above, catering to betting-fans who have embraced cryptocurrency's simplicity and privacy. Their deposit and withdrawal process is simple and streamlined, with fast processing.
All of their cryptocurrencies require minimum deposits of 1 mBTC, and incur no service charge with instant transactions. This is just one of the perks paying by cryptocurrency offers, contrasting with the longer processing times different methods often impose.
Withdrawals are slightly different. Though there is still a minimum of 1 mBTC and the lack of a service charge remains, processing now takes 15 minutes. While this is not quite as impressive as an instant transfer, it's still a brief wait, and shorter than the hours or days standard banking methods may force you to endure.
Available Cryptocurrencies
1xBit is entirely based around cryptocurrencies, and does not cater to customers looking to make transactions with more traditional forms of money.
bitcoin is available, as are Dash, ZCash, Bytecoin, Bitcoin Cash, BitShares, litecoin, Ethereum, GameCredits, Sibcoin, Dogecoin, Monero, NEM, DigiByte, and FunCoin.
1xbit Bonus Offers

Visiting the Bonus section of 1xBit is quite an experience. Not only are you treated to the same slick design and strikingly dynamic visuals, you can explore a huge variety of bonuses.
Their First Deposit Bonus is impressive: you will earn a 100% match on your initial deposit, up to 1 BTC. This is a strong incentive to join in itself, but it's surrounded by other generous bonuses, such as Bonus Points for Placed Bets, Accumulator of the Day, 100% Bet Insurance, Advancebet, and others.
All of these can help to make your money go further and potentially boost the amount you have to play with, across sportsbooks, casinos, and more. 1xBit provides a facility to sign-up for bonus alerts, with which you will receive emails or SMS updates whenever new promotions are added to the site.
Verdict
1xBit is an outstanding cryptocurrency betting site, and one that every bitcoin user should explore.
The sportsbook's range of sports markets is absolutely stunning, as is the variety of casino-gaming options. Slots, table games, live-dealer experiences, lotteries, and more all contribute to what can only be described as a paradise for betting-fans. The instant or fast processing times and lack of charges are just the icing on the proverbial cake!
You can learn more about getting set-up with your own bitcoin account elsewhere on our site.
---