Anonibet was launched in 2011, and provides its members with a high level of privacy and an amazing range of bitcoin betting options. Anonibet is not licensed by any regulatory body, and instead is welcome to customers based in any country where online betting is legal. Players residing in the UK can sign up and use Anonibet legally.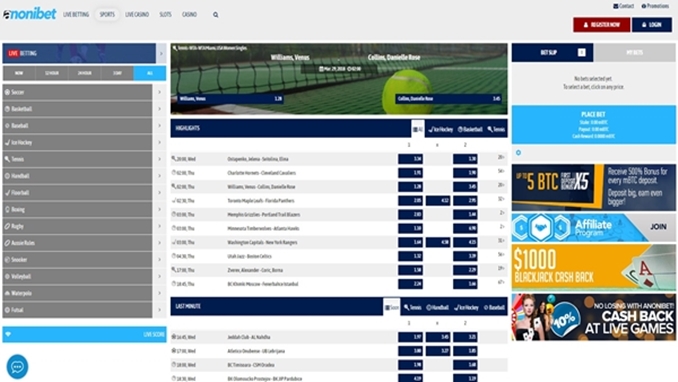 Anonibet are very emphatic about this legal area in their terms and conditions: they take no responsibility for anyone who joins without having the legal right to do so.
Anonibet's different categories of betting are Live Betting, Sports, Live Casino, Slots, and Casino. Each of these features an extensive selection of markets / games, expanding Anonibet's appeal to all demographics of betting fans.
In the Live Betting section, you will find a huge variety of in-play events available to wager on. The layout is extremely user-friendly and simplified, with different sports labelled clearly and dynamic timers counting down to the end of the game.
All the information you need to make an informed choice is available, and a full schedule of upcoming matches is available. This is a terrific feature that avid sports fans can study to plan your bets.
The Sports section is equally impressive. Anonibet displays a pick of highlights in the centre of the page, showcasing out the most appealing upcoming events, while the list of markets allows you to browse games at play now. You can choose to view them based on when they are due to begin: in 12 or 24 hours, or even three days away.
Sports markets available include Soccer, Basketball, Baseball, Ice Hockey, Tennis, Handball, Floorball, Boxing, Rugby, Aussie Rules, Bandy, Snooker, Cricket, Volleyball, Water Polo, Futsal, and Squash.
You will find different regions within each market. Clicking on Cricket, for example, brings you a choice of International, New Zealand, and Pakistan options, with different leagues and tournaments available in each.
Anonibet's overall presentation is simple but effective. Every page makes great use of its space, filling the screen with information without ever feeling cluttered. The contrast between whites, dark blues, and sky blues gives the site a clean, vibrant look on desktop and mobile alike.
Signup and Membership

As Anonibet is committed to giving its members a hassle-free, private betting service, the registration process is satisfyingly simple.
All you need to do is click on the 'Register' button at the top of the screen, and you will be taken to a submission page. Just give the email address you want to use, and pick a password.
Only one account per customer is allowed. Anonibet warns that it will keep the oldest account created open but shut the others down.
Deposits and Withdrawals

You can only use Bitcoin to make deposits and withdrawals at Anonibet, and the process is usually quick and simple.
The minimum deposit you can make is 0.005 BTC (5mBTC), and you can withdraw no more than 50 BTC within a 24 hour period. The minimum amount you can wager on any event is 0.1 mBTC.
Anonibet puts a 5% charge on any deposits taken out without being used for betting. However, they impose no other fees on deposits or withdrawals aside from this.
You can add Bitcoins to your acount by going to the deposit page. A Bitcoin address connected to your account is displayed, and you should use this to transfer funds from your Bitcoin wallet.
Available Cryptocurrencies
Anonibet only accepts payments in Bitcoin. This is its core focus, and there are no other cryptocurrencies available.
Bitcoin is known for its high privacy, and this is a major part of Anonibet's structure (as their name suggests).
Bonus Offers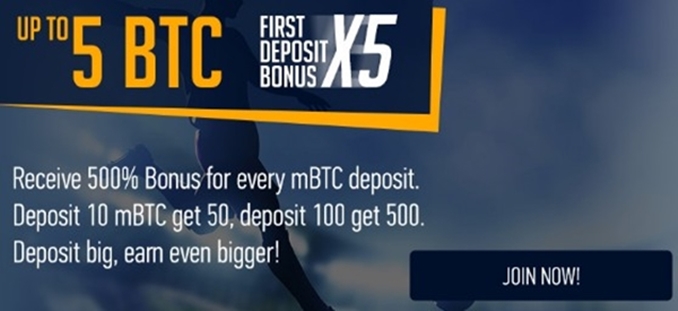 Anonibet provides new members with a generous welcome bonus. You will receive a 500% bonus for each mBTC you deposit up to 5 BTC, giving you far more to make wagers with at no extra cost to yourself.
This means you can deposit 10 mBTC and get 50 to enjoy, and the more you deposit, the more you will receive. The minimum amount required to qualify for the bonus is 10 mBTC This is a great way to start your membership with Anonibet.
The only other bonus which relates to their sportsbook is their rewards scheme. You will receive reward points for every bet you make, and these are converted into cash instantly. The amount this equates to varies depending on the level of loyalty you have achieved: Bronze, Silver, Gold, Platinum, or Diamond. Anonibet converts your daily avarage wager amlount into USD, to defend against fast changes in Bitcoin value.
Verdict
Anonibet is a terrific online sports betting site for Bitcoin users. The presentation is excellent, the sportsbook is massive, and the level of privacy is ideal if you're attracted to Bitcoin's near-anonymous structure.
---