Best Bitcoin Brokers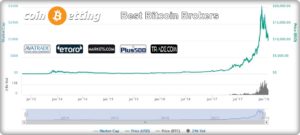 Bitcoin brokers are a popular alternative to bitcoin exchanges, particularly for people just starting their bitcoin journey.
Working with a broker can be more convenient and quicker than signing up to an exchange, and make familiarising yourself with the entire world of bitcoin simpler. Brokers will buy or sell at fixed rates, avoiding some of the bigger shifts in bitcoin value you may encounter at exchanges.
Below, we take a look at top five of the best bitcoin brokers available today, covering trading platforms, customer service, and other key elements.

1. eToro
eToro is recognised as one of the more innovative bitcoin brokers working today, and has gone from strength to strength since it launched in 2006. eToro incorporates social aspects into its service, with easy registration and set-up to make things easier for newcomers. There are two kinds of account: a standard model, and one designed for Mulim-users who prefer to with Shariah law in mind.
eToro offers multiple trading platforms, including OpenBook and WebTrader. The former gives you the ability to measure trades' performance in the past and to mimic the most popular traders' activities. The latter platform has plenty of advanced options too, and comes highly recommended. eToro's customer service is available by email or phone during every trading day, with a virtual agent providing responses to simpler queries.

2. Plus500
Plus500 features two different kinds of account – a standard 'real' one or a demo one. With the 'real' account, you can perform standard trading and upgrade your status to a gold account (provided you meet specific criteria), and in the demo mode, you can practice trading with virtual money using real quotes. This is a big help if you have never used a broker before.
Most notably, Plus500 includes a native trading platform, known for its intuitiveness and user-friendly interface. This is preferred by experienced traders, and allows you to set-up alerts for specific changes in the financial markets. Plus500's customer care is available 24/7, which helps to set it apart, via live chat or email (in nine languages).

3. Markets.com
Markets.com is regarded as a leading CFD broker, and offers a number of trading platforms including Markets WebTrader, native apps for Android and iOS, Markets Mobile WebTrader, and MetaTrader 4+ Tablet. These cater to traders wherever they are, and is designed to satisfy the majority of traders, particularly those who are on the go much of the time.
Marketscom is owned by Safecap Investments Limited, a publicly-traded FTSE 250 business. They provide users with support 24 hours a day, five days a week, in 10 different languages (though Markets.com's full website caters to 15).

4. AVA Trade
AVA Trade operates out of Dublin, and has been in the industry since 2006. It's regulated by a number of groups, including the EU's MiFID and the Central Bank of Ireland. This is another broker offering users a real-money trading account as well as a demo one, enabling you to practice and familiarise yourself with the process before investing your own cash.
AVA Trade's own trading platform, ZuluTrade, boasts a unique automated-trading feature, allowing traders to make stronger choices, while MetaTrader4 is available too. Customer support can be reached by phone or email 24 hours a day, five days a week, in over 12 different languages.

5. TRADE.com
This forex and CFD broker offers users three different kinds of accounts – classic, standard, and premium – each requiring a minimum deposit (£100). Two trading platforms can be accessed, too.
MetaTrader 4 and Playtech's WebTrader are available, and can be used via your web browser or the app. TRADE.com's customer service can be reached by phone or email, with localized assistance available for users across 27 nations, though it's not on-hand 24/7. Any of these will serve you well as you start experimenting with buying bitcoin.