Why Bet with Bitcoin?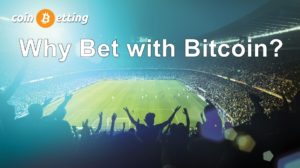 bitcoin is one of the biggest virtual currencies in the world today. While others continue to be created and brough to the cryptocurrency market, bitcoin remains a leading name, with a history and mining process that fascinates both those who use it regularly and newcomers alike.
bitcoin is gradually becoming more and more accepted as a form of payment, with both online and offline businesses accommodating customers wishing to use this instead of traditional money. The likes of Neteller, PayPal, Skrill, MasterCard, Trustly, PaysafeCard, and a handful of others tend to be go-to payment options at online retailers, with millions of people using these every day to purchase goods and pay for services.
As it continues to gain greater popularity, one of the major applications for bitcoin is sports betting. Take a look at some of the countless sports betting websites out there, and there's a high chance you will see at least a few accepting bitcoin for deposits and withdrawals. The ratio of those websites allowing customers to use bitcoin against those that don't (yet) may be somewhat imbalanced today, but in years to come, the number of businesses taking sports bets (and paying out winnings) with bitcoin will only rise.
You can find the best sites for bitcoin sports betting elsewhere on our site, giving you all the details you need to pick the right sportsbook for your personal needs and preferences.
Still, if you're curious about investing in bitcoin and using this revolutionary form of currency to fund your betting, you are probably wondering why you should give it a try. In the guide below, we'll explore the most powerful reasons to use bitcoin as the primary payment method for all of your online wagering.
1. No Third-Party Involvement

At present, bitcoin is not regulated by any banks or governing bodies, though sadly this may change in approaching years, as more countries have started to notice cryptocurrencies a little more.
However, at the moment, this lack of regulation makes bitcoin an exceptional choice for anyone looking to make wagers online. Traditionally, when you make bets at sports betting websites, the payment platform you use may incur charges or potentially be blocked (depending on the country you, or the business itself, are based in). Credit cards and debit cards, for example, might impose fees on your withdrawals, meaning you ultimately receive less of the money you win. Direct bank transfers are a convenient option, but they too can be subject to charges.
With bitcoin, you are able to make deposits and withdrawals without fees, and any that are imposed upon you would be far, far less than those from a bank or payment gateway.
You can rest assured that no credit card company, bank, or regulatory body will get involved and block your withdrawals just because they disapprove of betting websites or as part of security checks. The flexibility and freedom bitcoin offers is an ideal solution today, when more and more of us are losing trust in banks and governments; we all know how intrusive these are becoming, particularly online.
Nobody wants to feel as if the government is keeping track of what we do and how we spend our money, especially when it comes to betting on sports – what is, for the vast majority of people, a fun hobby which makes their favourite events more engrossing and potentially brings remuneration.
The amount of freedom and reduced charges has made bitcoin an obvious target for regulatory bodies looking to make money off of it, so bitcoin users are encouraged to make the most of it! The exchange of funds will be between yourself and the betting website itself only, without your money neding to pass through a middle-man.
2. The Blockchain Protects You from Fees

Above, we discussed the problematic fees often imposed by banks, credit cards, and payment gateways, and how bitcoin is a breath of fresh air.
The bitcoin blockchain is to thank for this. The missing hefty charges is key to the blockchain's construction, as the lack of a third-party standing between yourself and the website results in no costs for making blockchain transactions.
While a lot of transactions to lead to a fractional difference affecting the amount you receive, but this is typically in place to recompense the bitcoin miner responsible for the block's addition to the chain in the first place.
Still, these charges are typically as low as a fraction of a penny, meaning you would be extremely unlikely to notice any real difference in the amount you end up with after a transaction.
Sports betting websites usually have to make payments to the companies behind the payment methods they incorporate, and these additional costs end up being passed on to you, the consumer. Rising charges lead to greater overheads, eventually meaning you will receive less and less of your winnings over time if you stick to using traditional payment systems.
As these processors play no part in bitcoin transactions, transferring money into and out of your bitcoin account via the blockchain tends to be free, or incur fees so small you are unlikely to notice.
3. A Faster Way to Bet

Another benefit of using bitcoins for your sports betting online is the speed with which bitcoin transactions are processed. Usually, this is mere minutes – rather than the hours or days which traditional payment methods might involve. Other issues may arise too, such as delays, mistakes, and more out of the betting site's hands.
Having to wait so long to get your virtual hands on your winnings can be incredibly frustrating. Perhaps you need the money to cover your rent or bills, or simply want to reap the rewards of your strong picks as soon as possible. You may want to convert your bitcoins into standard currency (GBP, EUR etc.) sooner rather than later, to avoid dropping converstion rates.
Your bitcoin transactions will be as short as 10 minutes (the time it takes to introduce new blocks to the blockchain), and once this happens, the balance is yours. However, it's worth noting that some businesses accepting bitcoin for deposits and withdrawals may choose to rely on the six-block process to approve secured bitcoin transactions; should this happen, you might need to wait as long as an hour to get your money.
Thanks to this speed, bitcoin can make a significant difference to your enjoyment of placing bets on sports wagering websites: needing to wait for days before you can access the funds you have won can take the shine off your experience.
4. A Secure Solution

Security continues to be a critical aspect of making wagers online today, for players across the globe. Obviously, you're placing a great deal of trust in betting businesses when you deposit money into your funds and trust that you'll be able to claim any winnings; this trust is taken further when you input your personal and financial details into a website.
You expect the team behind the site to handle your information with care and courtesy – any breaches of this, specifically from outside parties can leave you unwilling to choose that business again.
Of course, the companies running specific payment platforms and methods (such as MasterCard, Visa, PayPal, Skrill etc.) need to provide a secure process too. Their encyrption software must be up to date, they have to incorporate proper identify-verification tools, and their support team should always be ready to handle any queries you may have.
Fortunately, bitcoin gives users a simpler, easier, more secure way to handle your online sports betting finances. Rather than being required to enter your credit or debit card number, your date of birth, your card's expitation date, and more into a website that may or may not be entirely secure, your bitcoin transactions ask only for your bitcoin address, as well as your private and public keys.
Encoded information is a critical aspect of making an exchange, with standard bitcoin addresses featuring a long string of numbers and letters, to be as indecipherable as possible. As a result of this set-up, bitcoin is regarded by users as the most secure, safe payment method for customers looking for a way to keep their online sports wagering risk-free.
Being able to play with more anonymity and privacy allowed by other, more traditional payment methods helps to reassure countless users who distrust the standard systems usually used by sports betting sites. You don't need to submit the same personal information when making bitcoin transactions as with, say, a credit card or direct bank transfer, and this can provide considerable peace of mind if you're new to a particular sports betting site.
As you can see, there are various strong reasons to start using bitcoin for online sports betting, primarily cutting down on the time, money, and frustration often associated with wagering using more traditional payment methods. You can learn more about the best websites for sports betting elsewhere on our site, and get the information you need to set-up your bitcoin wallet to start wagering.
Betting Sites with Bitcoin Currency which Accept UK Players
Betting Sites with Bitcoin Currency which Do Not Accept UK Players