Best Bitcoin Wallets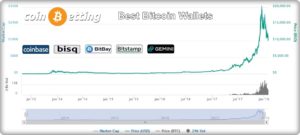 Once you decide to start investing in bitcoins, either to store as a valuable commodity or simply to make online transactions, you need a place to keep it secure.
You need private keys to access a bitcoin address, and these are kept in your wallet of choice. Typically, these provide you with access to your unique bitcoin address and the means to process online transactions. However, not all bitcoin wallets are identical – each is different, offering its own features and benefits. Here are five of the best bitcoin wallets available today.

1. Coinbase
Coinbase is a leading bitcoin wallet, serving 13 million customers and receiving support in 32 countries around the world. To date, Coinbase has exchanged $40bn in digital currency since it launched.
Coinbase is compatible with Android and iOS phones, as well as on desktops, and stores most of its digital assets securely offline. All digital currency kept on Coinbase's servers is protected by their insurance policy, and a multi-signature vault enables you to stay in control of private keys. You have the freedom to schedule purchases on a weekly or monthly basis, too.

2. Gemini
Gemini is the first United States exchange with a license to trade bitcoin, and is regulated by the New York State Department of Financial Services as a trust company. This lends it real credibility as a wallet, as does its enabling users to trade bitcoin according to six types of order.
Gemini's digital assets are kept offline in a cutting-edge Cold Storage System, and users can expect to receive 24/7 care (guaranteed to never encounter outsourced call centres or automated services). This kind of support can be a serious benefit for users, especially those concerned about time zones. Gemini has a unique 'maker-taker' charge schedule, which provides users with discounts on fees, as well as giving rebates. Every withdrawal and deposit is processed entirely free – a huge advantage.

3. Bisq
Bisq is as an open-source app for desktops which lets you sell and / or buy bitcoins, in exchange for other real-money currencies or cryptocurrencies. It prides itself on being different to other exchanges operating online, with no requirement for users to register and the entire system is open source for complete transparency. It never stores users' money either, instead using a 'decentralised arbitration system', with security deposits in place to keep traders' funds safe. All of Bisq's users' personal details are stored locally, and only trading partners give their data.
Bisq takes the privacy of your bitcoin transactions seriously, believing they should be kept protected 'from surveillance by banks, governments, and other institutions'. Their website is www.bisq.network.

4. Bitstamp
Bitstamp is another popular bitcoin wallet, which has no hidden fees, allows for instant trading with support for the biggest credit cards, and offline storage for 98% of all digital money.
They have announced that Masterpayment is now acting as their provider of payment services, available in bitcoin and accessible to users in close to 90 countries; they are a cutting-edge brand, and their services provide quicker, more convenient performance. Their work has allowed Bitstamp to reduce their charges down to 5%, and bitcoin can be purchased in any amount you like. Masterpayment has also improved the security of Bitstamp's services as a wallet. Their website is bitstamp.net.

5. BitBay
BitBay provides free accounts for users, with a card for your account – a fantastic feature that enables you to pay for goods in stores and withdraw money at ATMs. You can use it without needing verification, and there are 15 options for making withdrawals and deposits. These are processed quickly, and authentication is based on two factors for added security. Their website is bitbay.net.
Using any of these will give you a safe, secure wallet in which to store your bitcoins.