Win up to 2.5 BTC from Sportsbet.io with Brett Lee's IPL Quiz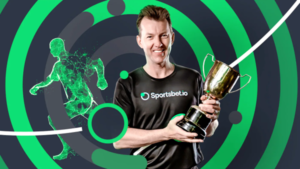 Sportsbet.io India has launched an exiting campaign with cricket legend Brett Lee for their Indian customers. The customers in India can win up to 2.5 BTC with a cricket quiz.
All you have to do is to predict the different outcomes in Indian Premier League's IPL T20 matches. The quiz will take at Sportsbet.io's new product called Sports Guru.
The winners at the contest will be eligible for the Sports Guru FINAL contest. The prize pool at the final contest will be 2.5 BTC meaning 2,500 mBTC.
The participation is quite easy in 4 simple steps:
Play any Sports Guru IPL contest: enter your selections and win prizes.
The entry fee to all contests is 1 EUR (0.11 mBTC). Please note, the entry fee in other currencies is dependant on the live EUR rate and may fluctuate hourly.
Final match contest TOP-5 winners will share a prize pool of 2,500 mBTC.
If you win, you will get your reward within 48 hours after the matches end.
Tagged with: Brett Lee • Indian Premier League • IPL T20 • Sportsbet.io