Sportsbet.io Becomes The Shirt Sponsor of Southampton FC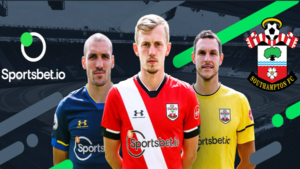 Just before the kick of of the 2020/21 English Premier League season, reliable Bitcoin bookmaker Sportsbet.io has announced their shirt sponsorship deal with Southampton FC.
As one of the most respectable teams of the Premier League, The Saints will feature Sportsbet.io on the front of their kit when they take to the field come the 12th of September.
Sportsbet.io – Southampton sponsorship deal will enable fans and bettors to:
Exclusive content for fans of both Sportsbet.io and Southampton FC.
Southampton FC promotions every week featuring everything from Free Bets to thousands of jerseys to give away.
Southampton FC casino games including slots and Live Dealer tables.
Amazing trips for Sportsbet.io players to game days at St. Mary's Stadium, home ground of Southampton FC.
Like Sportsbet.io did with their Watford FC deal, they will keep promoting Bitcoin with the Bitcoin logo located on top of their logo. Instead of the shirt sleeve deal with Watford FC, this time the Bitcoin logo will feature on the front of the shirts of Southampton FC.
After last seasons Watford FC and Flamengo CF deals, this is the third football sponsorship of the Coingaming brand Sportsbet.io. These deals are a significant indicator of their commitment to football fans and betting with Bitcoins.
After the deal the Chairman of the Coingaming group Tim Heath said:
'We are absolutely thrilled to accounce this sponsorship deal with one of the Premier League's most ambitious teams. Sportsbet.io shares the club's desire to disrupt its industry and increase its global reach. We're proud to be able to contribute to the Saints and support such a prestigious team which has been around for nearly 135 years.'
Southampton Football Club's Chief Commercial Officer, David Thomas, added:
'We are delighted to welcome Sportsbet.io as Main Club Partner. Sportsbet.io have redefined the online betting space by combining cutting-edge technology with cryptocurrency expertise and a passion for offering its players with the ultimate fun, fast and fair gaming experience. They are fully committed to providing a safe place where people can enjoy their games responsibly, and have a world-class social responsibility team in place. The club will work with Sportsbet.io and our local community to promote this important social responsibility message over the course of the upcoming year. Everyone at the club is looking forward to the start of what we hope will be a strong season for Southampton, and we are very happy that we will be able to share that journey with Sportsbet.io.'
Tagged with: English Premier League • Southampton FC • Sponsorship Deals • Sportsbet.io