Nitrogen Sports is an outstanding online sports betting site for Bitcoin users. It was launched in 2012 and is owned by Ideal Media Incorporated, with the company's headquarters based in San Juan, Costa Rica. It is licensed and regulated by Costa Rica's own gaming body.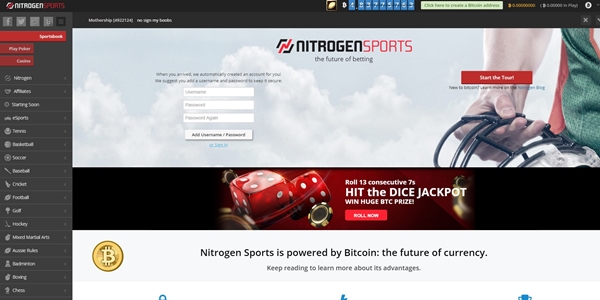 As soon as you arrive, you are invited to create an anonymous account which provides you with a random ID.
Without needing to sign in (though you can do this later – see below), you can start exploring the variety of sports markets available. This level of anonymity is ideal for Bitcoin users looking to avoid the more in-depth registration processes found at countless other betting sites.
Nitrogen Sports has an understated presentation style, and is very user-friendly in its design. Navigating the different sports markets, making transactions, and finding the support you need is nicely simple.
There are plenty of different sports markets available to wager on, including thousands of events across leagues and tournaments across the globe. Basketball, for example, features NBA, NBA – Futures, NBA – Game Props, NBA – Player Props, NCAA, NCAAB – Futures, ABA – Adriatic League, Argentina – Liga Nacional, Australia – NBL, Brazil – Novo Basquette Brasil, and dozens of other options.
Other sports include football, soccer, baseball, mixed martial arts, darts, boxing, rugby league, and more. It's an impressive selection, and browsing them all is easy on screens of all sizes thanks to the quality layout.
Nitrogen Sports provides eSports betting markets too, on the biggest games in this growing field. Counter-Strike, Dota 2, League of Legends, Overwatch, and other games can all be bet on, in different tournaments.
Every sport, every tournament, and every league you could want to bet on is available at Nitrogen Sports.
Signup and Membership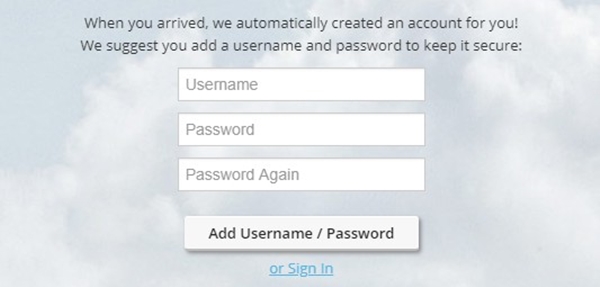 Nitrogen Sports automatically creates a new account for you when you arrive, and uses cookies to keep you signed into the account when you stay on the site with the same device. If you want to visit usng another device, you can use the unique URL Nitrogen Sports creates and displays on your account page.
This is absolutely outstanding if you want to make the most of Bitcoin's anonymity and privacy. There's no obligation to sign up with your personal details, making for a much more simple process.
If you want to create a username and password, you can, through the Account page. This adds to your security, as does the two-factor authentication option available. It's your choice to either register with your details or not, depending on whether you want that extra layer of security or not.
Deposits and Withdrawals
You can make deposits at Nitrogen Sports by going to the 'Cashier' page, accessible through the menu to the left of the screen or through your account page.
Nitrogen Sports displays a Bitcoin address whenever you click the 'new address' button. You need to copy and paste this into your wallet to transfer Bitcoins across to your Nitrogen Sports account.
You can withdraw coins just by entering the amount you want to take out and your Bitcoin address. To withdraw, Nitrogen Sports stipulates that all deposits below 1.0 BTC have to be confirmed at least once, while anything above may need between two and six confirmations.
You can expect the money to reach your account within minutes, though you should allow a maximum of 24 hours.
Available Cryptocurrencies
Nitrogen Sports accepts payments through Bitcoin only. There are no other cryptocurrencies available.
The Nitrogen Sports site has plenty of information on Bitcoin, how it works, and how to transfer money to and from your account. This is ideal if you're new to it, and makes getting used to Bitcoin a little bit easier.
Bonus Offers

Nitrogen Sports doesn't have as many bonus offers as some of their competitors.
They have their Parlay Jackpot, which is a prize pool to various members each month. There are three pools, with seven players in each one with the highest parlay payouts getting a share of the overall prize.
The Parlay Jackpot page carries leaderboards for the three pools, with the current prize for each and the user IDs. You can view the users' betslips too, as well as the payout they can expect to win.
They have a seasonal promotion too: the Australian Open Challenge. At the time of writing, this was offering members meeting the specific criteria the chance to win Bitcoins free. Their NFL Survivor Pool is open to members who back the winning side in at least one NFL game every week, with every team only available to bet on once during the season.
Verdict
Nitrogen Sports is a must-try for Bitcoin users. The hassle-free presentation and interface makes for a fast experience on any device, while the instant anonymous account-creation upon your arrival ensures a high level of privacy for every member. Their pools help to create a sense of community, and give members a little something in return.
---