The Football World Embraces Crypto Currency Deals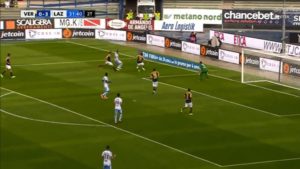 The cryptocurrency revolution is in full swing and shows no signs of slowing down. For those unfamiliar with this phenomenon, cryptocurrencies are virtual or digital currencies (assets) designed to work as a medium of exchange. Cryptography is used for security and verification of transactions, as well as a way of controlling the creation of new units of the currency. The result is a unique blend of transparency and anonymity – while all payments are visible, users can keep their identity concealed. Basically, cryptocurrencies ease our dependency on financial institutions while saving us money on useless bank charges.
As the popularity of cryptocurrencies continues to grow, we are beginning to see them permeate all aspects of life. Recently, this innovation has taken root in the world of international football. While this may seem like an unlikely union, an explosion of intriguing high profile blockchain based prospects have been announced or advertised:
Sirian Labs, a blockchain-based hardware manufacturer landed a coup by acquiring superstar Lionel Messi as it's brand ambassador. This went a long way to helping the company raise a staggering 157,000,000 USD in its bid to develop and market a range of secure smart devices.
In the Italian Serie A Football League, COSS.IO has featured prominently in adverts. This digital asset exchange platform has gained traction over the past few years and entered the mainstream.
eToro, another online investment platform offering crypto, recently inked a deal with The English Premier League for a variety of sponsorship activities.
Retired Chelsea star Didier Drogba threw his support behind a social platform for crypto traders called All.me.
All Sports Blockchain is building a blockchain to aid in the development and introduction to market of new sports-related digital apps. They too acquired high profile football stars as spokespersons in the form of Eden Hazard and Sergio Aguero.
A Hyundai subsidiary, Hdac, is creating unique platforms for enhanced security for it's cutting edge hardware wallets. The company made a big splash at the FIFA World Cup with an eye catching advert at half time.
Dutch cryptocurrency company Libereum is aiming to acquire a portfolio of football clubs, with their first purchase being Elche Club de Fútbol.
Coindeal, the well-known crypto exchange, teamed with Wolverhampton Wanderers to become their shirt sponsor.
Not to be outdone, Arsenal also has a similar shirt sponsor in the form of crypto betting site CashBet Coin.
Gibraltar United announced a lofty plan to pay players in cryptocurrency. Whilst the implementation has subsequently been delayed, the project is noteless a testament to the Clubs forward-thinking.
As far as online betting, the site that undoubtedly leads the pack in terms of being crypto-friendly, is 1xBet. Players can deposit, bet and withdraw in a multitude of cryptocurrencies at this leading sportsbook. All in all, it seems like the future has arrived and crypto is now firmly entrenched in the world of football.
Click Here to Signup to 1xBet!
Tagged with: All Sports Blockchain • All.me • Arsenal • CashBet Coin • Coindeal • COSS.IO • Didier Drogba • Eden Hazard • Elche • English Premier League • eToro • FIFA World Cup • Gibraltar United • Hdac • Industry News • Italian Serie A • Libereum • Lionel Messi • Sergio Aguero • Sirian Labs • Sponsorship Deals • Wolverhampton Wanderers