Sportsbet.io Becomes New Shirt Sponsor of Watford FC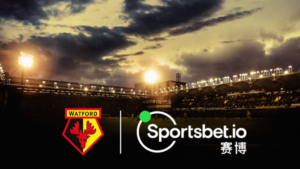 It was 14th of June 2019 when Watford FC announced Sportsbet.io as stheir new front of the shirt sponsor. One of the biggest brands in the crypto betting universe is Coingaming and their biggest brand is Sportsbet.io. They now will sponsor Watford FC from the 2019/20 Premier League season.
This deal meant to be the largest ever sponsorship deal for Watford FC. It is also the biggest deal in the Premier League amongst all the block chain technology and cryptocurrency expertises. Sportsbet.io's presence in the Watford FC shirt will open many curious eyes around the world towards crypto money betting.
As a part of the deal Watford FC will be working closely with Sportsbet.io's talented team in Estonia to develop activation initiatives in a range of international markets. In particular, Watford FC and Sportsbet.io will work together to launch a number of initiatives that will delight our most ardent supporters.
Spencer Field, Global Strategy & Partnerships Director of Watford FC, said:
"This is an important year for the club as we aim to improve on a fantastic season both on and off the pitch in 2018/19. Our desire to increase our global reach while continuing to make our fans proud by doing things differently in the Watford way is fully supported by Sportsbet.io. We are thrilled to have found a partner that matches our ethos by looking to disrupt the betting industry and offer their customers a fun, fast and fair experience."
Justin Le Brocque, Head of Sportsbook Marketing at Sportsbet.io, said:
"The Premier League is the most watched sports league in the world, so we are absolutely delighted to announce a major sponsorship deal with one of its most celebrated teams. Like Watford, Sportsbet.io knows no borders in its efforts to bring fun, fast and fair entertainment and excellence to a truly global audience. We are both looking to disrupt more established competitors and need to be creative in the way we approach this challenge. We share the club's desire to combine passion and innovation to reach the top, and we look forward to doing everything we can to support Watford next season and beyond. We're very proud. Equality and diversity is embedded in Sportsbet.io's ethos, so we'll be looking to make that message clear as we involve ourselves fully right across the club. It's exciting to think we can play a supporting role in the success of both of the club's most senior teams."
If you would like to see this Sportsbet.io website for yourself please click on the link below.
Tagged with: Industry News • Sponsorship Deals • Sportsbet.io • Watford FC