Arsenal Signs a Sponsorship Deal with 'High Risk' Cashbet Coin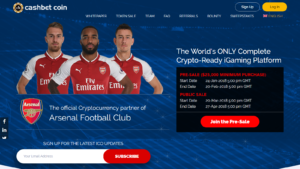 Famous football club of the English Premier League, Arsenal FC has become the first major football club to sign a deal to promote a crypto-currency. Gunners reached the agreement with the gaming company CashBet Coin.
CashBet launched their business back in December 2012, they are incorporated in the Channel Islands (Alderney, within the Bailiwick of Guernsey), they have licenses by top-tier gambling regulators since 2013: ACGC, UKGC (United Kingdom Gambling Commision) – in the online gambling world UKGC is considered to be one of the most reputable regulators. Also, they have over $10 million in wagers through the platform and over 25 thousand active players.
CashBet is planning to launch its own currency CashBet Coin. We will see CashBet Coin advertised at Arsenal's Premier League home games.
This kind of deal can be the two-bladed sword for Arsenal in our opinion, as it is questioned whether is a wise decision by the club to promote what can be a very risky investment. They will endorse a highly volatile business and they will encourage fans to bet with CashBet coins. CashBet is now launching an Initial Coin Offering (ICO). It aims to raise $40m by getting investors to buy CashBet Coins which can then be used to bet on its various online games.
Initial Coin offering (ICOs) have become an popular way for businesses to raise money following the great rise of Bitcoin, the original crypto-currency. But with all cryptocurrencies, there is the risk as they are all unregulated and its value fluctuates wildly every day. People investing in it hope to profit from the rising value of the crypto-currency, but that is higly risky business at the moment.
So at the end of the line, we think it is extremely risky to encourage people to invest in Crypto-currencies as they are less regulated than regular betting shops and it's a lot harder to get actual pounds back out again. While CashBet says it is regulated by the UK Gambling Commission and the Alderney Gambling Control Commission, a spokesman admitted that did not apply to its new crypto-currency venture. Punters who bet with CashBet's currency would eventually be able to convert their winnings into cash on third-party exchanges.
Tagged with: Arsenal • CashBet Coin • ICOs • Industry News